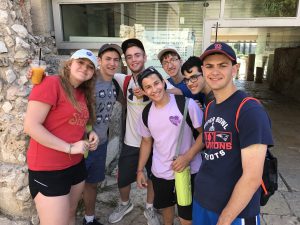 On Sunday night, we headed over to Hof Habonim, which is a beautiful oceanside beach. We pitched our sleeping bags and sleeping mats in the sand and had a nice dinner all together under the main pavilion. From there we broke off to do whatever we wanted. People went on nice strolls, while others gathered around to draw or sing songs. When it was time to sleep, we settled down in our sleeping bags and had quiet conversations or did some stargazing. When morning rolled around, we tiredly got up, got dressed, and had tefilot by the sunrise. We packed our bags, loaded the bus, and headed toward Zippori. There we learned all of the history of the old Talmudic city and got to see some elaborate and ancient mosaics. We trekked through the burning sun and, eventually, took a nice lunch break and ate fantastic falafel. We then headed up to Shfaram and discussed Arab-Israeli coexistence with two students at a local high school. Both girls were eager to share their experiences in this special school and it was very interesting to see how similar and different their lives were to ours.
After that, we checked into a youth hostel in Peki'in. We took some badly needed showers and headed over to Beit Zinati to learn about Margalit, the 85 year old woman who was the last Jew to remain in the town after a major invasion. Then we walked through the town, had a feast and learned about the Druze. We ate amazing salads and when the main meal of chicken and veal came around, we were excited to eat even more. Completely stuffed, we went back to the hostel and caught up on sleep from the long night on the beach.
Waking up from our well-needed sleep, we prepared for the day, did tefilot, ate breakfast and left for the day. Our first stop was in Acco, where we learned about the Crusades and the Jewish experiences with them. It wasn't quite as hot as the days before, and was mostly inside, but we still tired out easily and needed lunch. After lunch, we listened to a Christian Lebanese Arab Israeli activist who had a lot to tell us about his life. He told us all about his life growing up in Lebanon and his move to Israel. He gave us a heartfelt story about growing up gay in a family that didn't support homosexuality and his struggles with his religion and childhood. Then, we went to a mosque and talked to an imam and a rabbi about relations between Jews and Muslims. We discussed issues and conflicts and gained new and meaningful insights. Then, after a quick overlook of Haifa at the beautiful Bahai Gardens, we headed back to the hostel for dinner and showers.
– Alex Shrago