Shalom l'kulam (hello to everyone)!
What a week we've had! After an incredible
achla yom
, a calm Shabbat was exactly what we needed! We started it off with taking
aydah 
(unit) and bunk pictures, which was quite a project with a total of 6 bunks, but our K'firim made it work!
We spent the first Shabbat of second month learning about what Shabbat is at Machaneh Yavneh and our special mesorot (traditions) here. On motzei Shabbat (Saturday night), we had an opening tekes (ceremony) to start Tisha B'Av (the solemn day commemorating the destruction of the 1st and 2nd Temples in Jerusalem).
The next day, Sunday, was a fast day for those who chose to. We had many peulot (activities) about that day and what it represents. We also talked about loss and what it means to the Jewish people. It was a very meaningful day for all of us. We finished the day with a small tekes prepared by our mishlachat (Israeli delegation). At 8:50 pm, the fasters had a long-awaited break fast meal and went back to the bunks to get a good night's sleep because Monday was…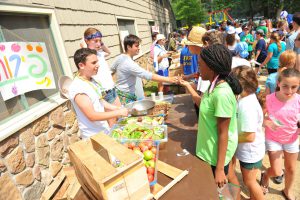 YOM YISRAEL!! Yom Yisrael
is a day that is completely about the state of Israel! This was the second
Yom Israel
this summer and it was better than ever! K'firim engaged in fun, original and informative
peulot 
created by our
mishlachat
and camp
tzevet
(staff). It was a great day which ended with yet another 
tekes
in our Gilboa ampitheatre.
We have so much more to look forward to. We'll be in touch soon!
B'ahava, Herschel & Aviv, Roshei Ayda (Heads of Unit)