Baruch Hashem (Bless God), it's Friday! The birds are singing, the sun is shining and Shabbat is upon us. We spent the second half of our week preparing for KTV, a lip syncing competition. Each bunk in camp is given a theme and they must prepare a skit and song that has to do with that theme.
Arayot's theme was love songs. The boys prepared a rendition to Britney Spears' "Oops I Did it Again" with a very entertaining dance. The girls prepared a skit depicting a love story sequence starting from when the couple were toddlers to the age of 64. They mashed up the Barney theme song, "See You Again" by Miley Cyrus, "15" by Taylor Swift, "Marry You" by Bruno Mars and "When I'm 64" by The Beatles. The boys placed second overall and the girls came home with the gold!! It was an Arayot sweep!!
Rain or s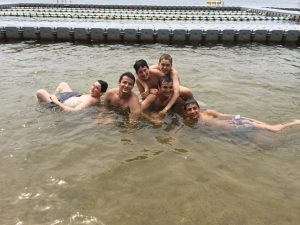 hine, we do more than fine! Although our overnight to Mt. Monadnock was suspended due to inclement weather, the
chanichim
(campers) kept their spirits higher than the mountain itself (which is pretty high, because that's one tall mountain) with a therapeutic in-camp
achla yom
(trip day).After breakfast, Arayot walked around the entire Lucas Pond and came back to camp to make a splash in the
agam
(lake) for a cooling free swim. Afterwards, they headed to the sports field to watch the Ma'alot (rising 10th graders) and Levi'im (rising 9th graders)
banot
(girls) square off in a hard-fought battle of powderpuff football!
After an entertaining match, the chanichim enjoyed pizza bagels
and ice cream for lunch. At night, we took a "trip" up to America's hat, Canada, for erev Canada (Canada night), to celebrate the greatness that is the great white North. The chanichim engaged in maple syrup art, Canadaian karaoke (Cher, Justin Bieber, Avril Lavigne, Michael Buble, etc.) , live-action air hockey, and Canadian trivia before breaking out into dance party!
We can't believe the week is already coming to a close.  Until next time!