Lets look back at the latest from last week's Leviim:
Our hike on Welch Dickey Mountains was fun and challenging, proving our חניכים (campers) could take on any challenge and ma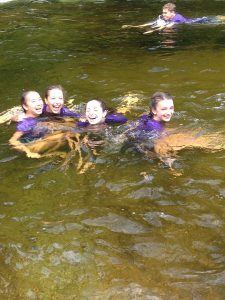 ke it fun! Blazing through the sunny trails and beautiful scenery, we finished the hike quickly before embarking on our next destination: the cascades! The natural waterslides were a fun and exciting cool-down for the חניכים, that is until the special הפתעה (suprise) of גלידה (ice cream) !!!!! After returning to the מחנה (camp), we enjoyed a great BBQ dinner.
Friday
we prepared for our first Shabbat, which featured loud and clear voices and plenty of רוח (spirit)  to keep the good times rollin'. Shabbat was just as exciting but more relaxing.
Due to our overarching amount of talent, Leviim loaned some our חניכים to "artsfest", a festival between several camps that comprises of signing, art and dancing. With a bevy of חניכים gone, we took a hop on the time machine to erev preschool ( preschool night ), where the חניכים dressed as toddlers and engaged in finger-painting, baby-food tasting, coloring and story telling.
That's all for now, check back in later gator !!
באהבה
Avi and Emma