Howdy family and friends of Leviim '17!
We can't believe there is only one week left of first session, the summer has been flying by so quickly! Luckily,
Leviim
 '17 has been staying quite busy.
Thursday
was a bit overcast but that didn't stop us from learning the hand motions to
Shir Yisraeli
for
Zimriyah
! Our
aydah
is particularly enthusiastic about
Zim
which has allowed us to learn everything very rapidly! The
banim
had yoga in the afternoon and
the
banot had
daglanoot
(flag dance) which they performed last night at the
Tekes Yom Yisrael
(Israel Day Ceremony).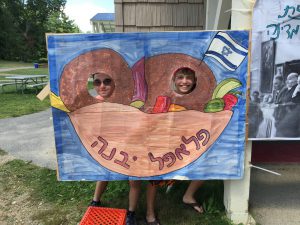 Our evening
peulah
on Thursday
night was a
chinuchit
(educational activity) about perceptions of Israelis versus Americans. The
chanichim
split into groups to draw life-size stereotypes of how Americans perceive Israelis and vice versa. This prompted very interesting conversations about the core differences of the two societies and the role Jews of the diaspora play in the existence of the State of Israel. We ended the evening watching a video from an Israeli TV show depicting Birthright that everyone had a good laugh about!
Friday
was our first day of the summer
meltzing
! Every summer, upper campers have the opportunity to give back to Yavneh by acting as waiters and waitresses during meal time. Our two
meltzing
shifts, composed of half the
aydah
each, are named Albany and Boston after the hometowns of Ravi and myself. Working together on a common goal is great for enhancing the unity of our
aydah
and teaches the
chanichim
real life skills!
We had our first
Friday
night
Kabbalat Shabbat
outside this
Shabbat
which set an amazing tone for a relaxing weekend together. Sunday was
Yom Yisrael
and in addition to the
banot
dancing in the
tekes
, the
banim
decorated an Israeli flag to be featured. We spent the day making pita, learning about Israeli cultural dilemmas and enjoying an authentic
shuk
(market) experience!
Looking forward to an incredible last week of first session!
B'ahavah,
Sarah (and Ravi)
Your Co-Roshai Leviim