We have been having so much fun during second session! The first day was a bit of a rainy day and so we spent a lot of time doing indoor activities. That evening, we split older and younger Kfirim for peulat erev (evening activity). Younger Kfirim had a carnival night and played musical chairs, pinned the tail on the donkey, had face painting, threw balls at cups, and of course everyone's favorite eating a doughnut off a string. The chanichim really enjoyed the whole evening! Older Kfirim has erev Greek life in which they dressed in togas and had activities related to Greek life.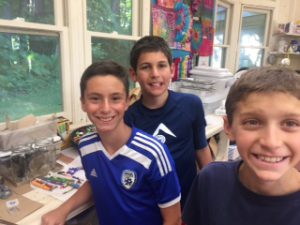 On Tuesday, the weather was nicer and the chanichim were finally able to get back into the water and swim in the afternoon. The afternoon was full of fun activities outside. Older Kfirim has been enjoying the sadna experience as it is nice for them to be able to choose what to do in the afternoon. There are all kinds of cool activities including a nature related activity, improv, and drums.
Yesterday was another typical day at Yavneh in which the chanichim had swim, chug (elective), and kitah (class) in the morning followed by free swim and other activities in the afternoon. The Older Kfirim chanichim continued their sadna and had a blast. Last night was Erev Superhero in which the chanichim had a peulat erev related to superheroes – an other fantastic evening.
We are very excited for the Kerem Carnival today and can't believe that the first week of second month is already winding down!
B'ahavah,
Adam and Danni