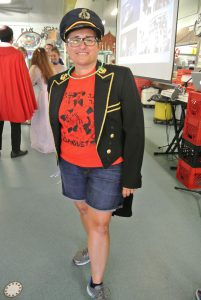 A little Disney magic descended on Machaneh Yavneh for one night before camp ended.  As the chanichim entered the chadar ochel, I mean the Disney Cruise, on their last night for camp  banquet, they were greeted by their Captain for the evening, Estelle Gomolka, and her First Mates, the madrichim, in special t-shirts designed just for the evening.
It was a fitting way to send off the summer. Every year since the inception of the banquet in 1990, Estelle Gomolka has dreamed up a new theme and with her own creativity and a little magic, she turns the last night into a festive celebration of camp and summer. A Disney fan herself, the idea hit just after Erev Estelle, in the first session of camp, celebrating her own 40 years at camp. She wanted something extra special this summer, and she said, after the celebration everyone had such a good time and everyone was just happy. Estelle explained, "That's Disney, and I thought, for one night, everyone's dreams can come true. The whole idea is that the final night there shouldn't be room for tears or sadness, but pure joy and complete happiness. When Disney comes to Yavneh, it's 100 percent smiling. It's the happiest place on earth!"
Of course, as head of the Agam, she couldn't resist making it not just Disney, but a Disney cruise. "Everything is more fun with water!" she said.
There was plenty of ruach, a live band, Disney centerpieces, and even Mickey Mouse ear cookies and Disney cupcakes.
Gomolka remembers every banquet she's organized. And if she forgets, she need only glance at the wall in her home away from home at camp, where one t-shirt from every banquet hangs on the wall. Some of her favorites have included Yavnopoly, when favorite camp spots were transformed into places to buy and sell on the
Yavnopoly board, and Yavnehplex, when the chadar ochel became an old movie theater, complete with a full lighted marquis at the entrance.
Then, Gomolka learned that among the chanichim this summer were the Kaplan children, who came to camp (one in Gurim, one in Kfirim) all the way from Dunwoody, Georgia. Their father, Dr. Jason Kaplan, an orthodontist, has been to Disney 15 times, even more times than Gomolka. (She has "only" been there about 5 times.) And he has earned a coveted spot on the Disney Mom's panel. For the uninitiated, this is an online forum providing guidance to people planning trips to Disney. The positions are not salaried, but those on the panel receive in-kind reimbursement, like a trip to Disney. (The Kaplans will be taking their trip in October.) Dr. Kaplan explained, "Let's say you're going to Walt Disney World Resort during Pesach. You might post a question on the forum, 'Where can I get kasher l'Pesach food at Disney?' That question would likely get funneled to me, and I would provide an answer." The questions can be more general as well.
His biggest tip for travelers to Disney: Plan well. "The people who don't have a good time are the people who don't plan. It's like taking a trip to Israel. When I go to Israel, I want to see everything. But I have to plan."
The Kaplans found Yavneh through fellow Georgian Jeff Weener, assistant director at camp. They liked the pluralistic approach, since the Kaplans were a combined marriage of Conservative and Reform denominations, and then together they wandered over to Orthodoxy.  They were looking for a summer camp in the Northeast to get away from the southern heat, and Yavneh seemed like the perfect fit. Even better, their kids love it, he said.
The Kaplan kids were at camp first session, so while they enjoyed Erev Estelle, they missed the banquet. But their father thought a Disney-themed banquet was a perfe
ct fit. "The Disney expectation is magical moments. That's a great jumping off point for camp," where, he said, "kids smile in the morning seeing their friends at wake up, doing a trick in the water they couldn't do before, or making a piece of pottery for someone they love." And, he said, he hopes his kids have the same feeling entering the gate at Machaneh Yavneh as he does every time he enters the Magic Kingdom. "I always feel like I'm being welcomed home."