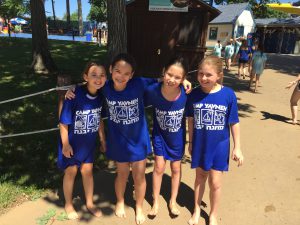 What an amazing few days we've had in Gurim. Between July 4th and our first achla yom (trip day), the first full week of camp has been so great!
July 4th started early for Gurim on the night of July 3rd, where we had a special treat-watching the movie Trolls! We had a great time and laughed throughout the entire movie. The next day was a regular morning. But after lunch the day became even more exciting. We had a parade throughout the camp, where we dressed up as if we were from the 70s. After that, we went to the Beit Am (gym) for dancing and to sing many American songs. The rest of the day was lots of fun with regular programming and time to cool down at the agam. At night, we watched an awesome show of talent, (aka a talent show.) A few Gurim representatives rocked the show, and we ended the night with yummy snacks and an amazing fireworks show.
For our Achla Yom, we went to Water Country in Portsmouth, NH. We split into groups by ride intensity level and went onto many rides throughout the park. Many kids went on the famous Geronimo slide, while others stuck to the lazy river. We ended the trip with a great snack from kolbo and boarded the buses to go back to camp. For dinner, we had an amazing barbecue thanks to YFS (Yavneh food service).
After we split by tzrif for peulah erev, where we had lots of fun. One of the girls bunks had erev invention where they came up with their own invention and advertisement. A boys bunk had a world cup gaga tournament in which they each represented a country and played for "global domination".
This week has been so packed with activities and we can't wait to a restful Shabbat to start.
B'ahavah,
Cooper and Mandy