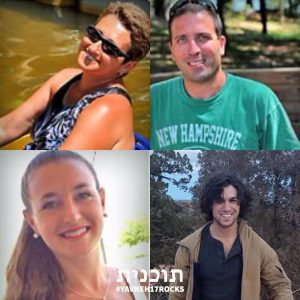 Four of Yavneh's  specialists – Estelle Lajmer Gomolka, Scott Rubins, Mica Felsztyna and Amiel Abir  – are returning for another great kayitz '17. Estelle is Rosh Agam (Head of Waterfront), Scott is Head of Safety and Photography, Mica is Co-Rosh Sport (Head of Sports) and Amiel is Rosh Teva v'Hisardut (Nature and Survival). Learn more about them here.
Recently, we asked them three questions about camp and here is what they had to say:
Favorite camp activity?
"Swimming at the Agam." – Estelle
"My favorite activity is anything at the Agam, it is my happy place at camp.  I love the Shark, swimming, kayaking, jumping on the trampoline and fishing.  Of course, I also love playing the drums during Relesh and Havdallah." – Scott
"Havdalah dancing " – Mica
"Overnight camping trips." – Amiel
What are you looking forward to most this summer?
"Zimriyah." –  Estelle
"I am looking forward to meeting all the new campers and staff members as well as seeing my longtime friends.  I am also looking forward to all the great food!" – Scott
"I am looking forward to seeing all the kids and teaching a lot of silk's tricks! " – Mica
"Shabbat at Machaneh Yavneh." – Amiel
Helpful tip for new and returning campers
"Label all beach towels, bring 2 pairs of goggles and a back pack for Trip Day." – Estelle
"My helpful tip is relax, have a great time and try new things.  Living in a bunk is so much fun!" – Scott
"Bring a lot of energy!!! Relax and enjoy!!!  " – Mica
"Teamwork gets the job done." – Amiel